Nowadays, more and more people are like to cosplay, yes, cosplay is so funny and interesting, you will discover the other side of you through cosplay.But for oversize ladies,women, they always find it difficult to cosplay the role they like or maybe the costumes are not fit for they body. They fell confused how could they can cosplay when take part in the cosplay party or comic con.
What are some good costumes for oversize ladies? What are popular plus size cosplay costumes? What kinds of cosplay ideas for plus sized ladies? We've put together our best advice for the cosplay for oversize ladies,from cartoon,anime and movie cosplay ideas. let's have a look at the cosplay ideas for a fat guys now.
Black Widow cosplay
Have you ever believe that fat Black Widow cosplay can be so sexy as well?According to this cool  cosplay, you can dress as whomever you want,but all you need to pay attention to is your dressing manners.
Super Girl
It is a dauntless cosplay, it seems to tell people that fat woman also can cosplay fashionable. The costume is the improvement of Captain America,which makes you don't know a damn thing about the character.
Barf from Spaceballs
Barf is a mawg, a half-man half-dog, Barf notes that he is his own best friend. Barf is a parody of the Wookiee Chewbacca. The costume is jumpsuits and you do't need to care about it will curb your waist.
Barbarella: Queen of the Galaxy
While very simple, it's still an amazing and fun Barbarella costume.Any body can hold this costume,but more fit for oversize woman.
 Ninth Doctor Who and his TARDIS
Yes, the hair and the cloth are all in blue, even the eyebrows,the lip are also in blue. It makes you stand out from the crowd and all eyes are focus on you.
Cartoon Cosplay
Hilda!!! the 1950s plus size pinup girl
This is a perfect cosplay idea for woman who have big bosoms, the costume is very easy and you don't have to purchase it from online shop or offline shop, you just wear your own cloth and scissor from collarband to chest.
Ursula from the Little Mermaid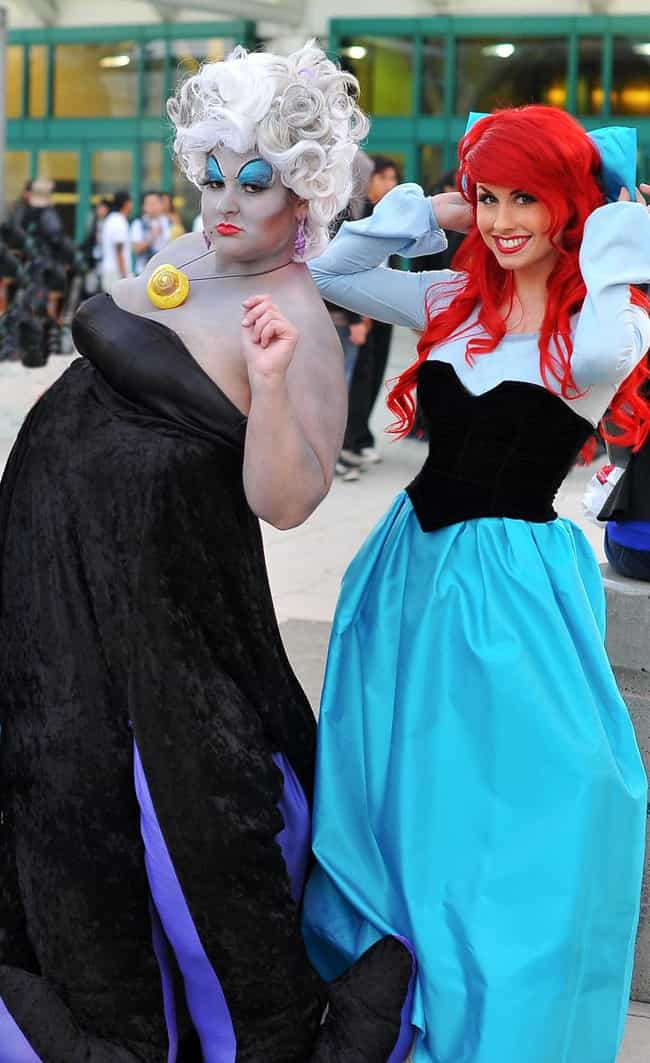 Ursula from the Little Mermaid is pretty cool. The Gray curls and Red lips,Blue eye shadows are making this woman like a fish,acting like some smug Beautiful girl and being so quick.
Snow White
With the red glasses,the snow white is so adorable. You can look for snow white costume online for your further inspiration or do it yourself using household items. Don't forget the red high-heeled shoes,it's charming.
Anime cosplay
Cosplay as Lady Death
Everyone of us all know the Death, but it not just for boys, our fat lady also can be very sexy as Lady Death. Her eyes maybe can kill you.
Princess Fiona
Princess Fiona would be the best choice for bigger woman, it seems that fat woman can cosplay the temperament of Princess Fiona.
This list of cosplay ideas for oversize women is far from exhaustive, but it's a good start if you're thinking about cosplaying without letting all your business hang out. Maybe you can visit our website and get more ideas.  xcoos makes cosplay more real. Not only do we want to offer the best in fabrics, design, and styles, but we also want to give our customers the best in the entire experience from order to delivery to even customer service.