The Best Cosplay From Sakura-Con 2018
Presented by the volunteer Asia Northwest Cultural Education Association, Sakura-Con is an annual three-day anime convention held during March or April at the Washington State Convention Center in Seattle, Washington. The convention, which is traditionally held over Easter weekend, is the largest anime convention in the Northwest. And it is also the oldest and most well-attended anime convention in the Pacific Northwest. According to the statistics, there were over 23,000 individuals attend to Sakura-Con 2016.
There are thousands of cos-players from different country with variety cosplay costumes and styles.And photographer and local reporter taken some photos from the scene of the Sakura-Con 2018. They are so many outstanding cosplayers from this Sakura-Con, if you were here, you will be amazed at their cosplay show and professional performance skill. let's share some of the best cosplay from the convention for you now.
1. Harley Quinn
The girl is busying on making-up in order to make herself look more like the original character.she is really very beautiful,wearing the wigs,just like Harley Quinn coming from the screen.
2. NieR Automata
This NieR Automata is very unique and cool,isn't she? It seems she is smoking,but you have to admit that her blindfolded style is just like the original NieR Automata with the similarity almost 98%
3. furry fandom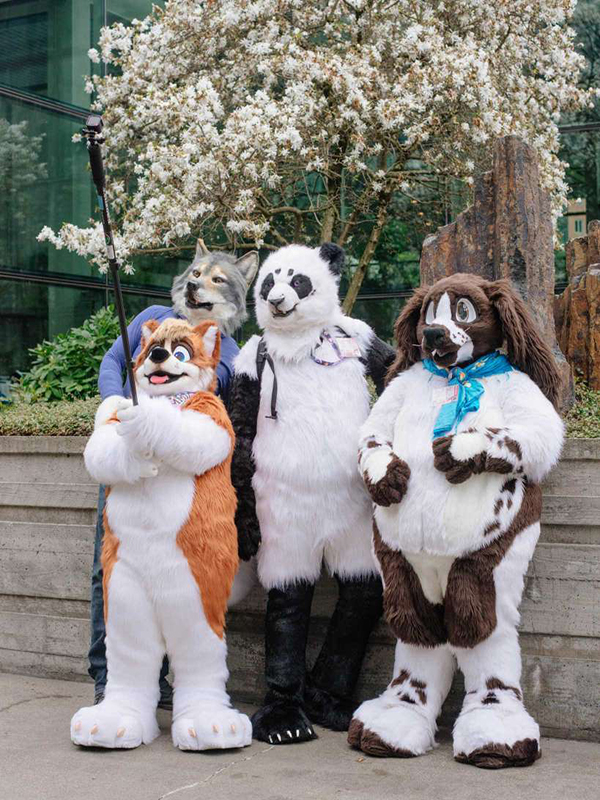 Wow,The pandan,fox ,tiger and the wolf is taking photos. These 4 guys cosplaying as furry fandom were really very cute and lovely!
4. Skeleton Mask
This men with a skeleton mask and fluffy wig is really horrible and eye-catching
5. Hot Girl
This girl with green tights and long wigs is really very sexy and attractive.
6. Pajamas Kigurumi
When you see this pic, you may urge to see the whole body of this cosplayer, right? But I just want to grab his tail,it must be hairy and soft feeling!
7.The Legend of Zelda Link
Link is the name shared by the main protagonists of The Legend of Zelda series. This couple wear green hats and costumes who are chosen by the Goddesses to protect the land from evil whenever deemed necessary.
8. Amazing couple
The men wear a purple coak and wig,looks very mysterious and cool!
It seems everyone get the most suitable role in this Con,if you want to try any charterers, do not hesitate any more, just pick up yours in xcoos, you will performance better than these cos-players.Xcoos have thousands of movie costumes,game costumes and anime costumes to meet your needs,custom-made service is provided for free.